| | | |
| --- | --- | --- |
| | | Today's biological science headlines from the sources selected by our team: |
Molecular beacons shine light on how cells 'crawl'
Chemists have devised a method using DNA-based tension probes to zoom in at the molecular level and measure and map how cells mechanically sense their environments, migrate and adhere to things.
Decrease of genetic diversity in the endangered Saimaa ringed seal continues
The critically endangered Saimaa ringed seal, which inhabits Lake Saimaa in Finland, has extremely low genetic diversity and this development seems to continue, according to a recent study. Researchers analyzed the temporal and regional variation in the genetic diversity of the endangered Saimaa ringed seal. The population is only around 300 individuals divided into smaller sub-populations and with very little migration among between them.
Ebola's evolutionary roots more ancient than previously thought
A new study is helping to rewrite Ebola's family history. It shows that Ebola and Marburg are each members of ancient evolutionary lines, and that these two viruses last shared a common ancestor sometime prior to 16-23 million years ago.
UTSW assistant professor chosen for $1.5 million Data-Driven Discovery award from Gordon
(UT Southwestern Medical Center) Dr. Kimberly Reynolds, Assistant Professor in the Cecil H. and Ida Green Comprehensive Center for Molecular, Computational, and Systems Biology and in the Department of Biophysics at University of Texas Southwestern Medical Center, has been named one of 14 Moore Investigators in Data-Driven Discovery.
NJIT hosts the NJ mayors' Summit on Resilient Design
(New Jersey Institute of Technology) Local mayors and state and federal experts will gather at New Jersey Institute of Technology to discuss how the state has recovered from two of the worst natural disasters ever to hit New Jersey: Hurricanes Sandy and Irene.
Some like it loud
(National Evolutionary Synthesis Center (NESCent)) Species of poison frogs that utilize bright warning coloration as protection from predators are more likely to develop louder, more complex calls than relatives that rely on camouflage. New research indicates that because these visual cues establish certain species as unsavory prey, they are free to make noisy calls in plain sight and better attract possible mates.
Molecular beacons shine light on how cells 'crawl'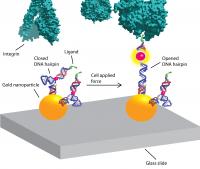 'Our premise is that mechanics play a role in almost all biological processes, and with these DNA-based tension probes we're going to uncover, measure and map those forces,' says biomolecular... Adherent cells, the kind that form the architecture of all multi-cellular organisms, are mechanically engineered with precise forces that allow them to move around and stick to things. Proteins called integrin receptors act like little hands and feet to pull these cells across a surface or to anchor them in place. When groups of these cells are put into a petri dish with a variety of substrates they can sense the differences in the surfaces and they will "crawl" toward the stiffest one they can find.
Scientists engineer toxin-secreting stem cells to treat brain tumors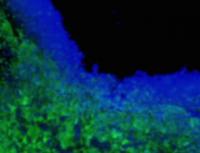 Encapsulated toxin-producing stem cells (in blue) help kill brain tumor cells in the tumor resection cavity (in green). Harvard Stem Cell Institute scientists at Massachusetts General Hospital have devised a new way to use stem cells in the fight against brain cancer. A team led by neuroscientist Khalid Shah, MS, PhD, who recently demonstrated the value of stem cells loaded with cancer-killing herpes viruses, now has a way to genetically engineer stem cells so that they can produce and secrete tumor-killing toxins.
A new dent in HIV-1's armor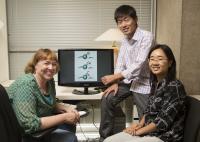 This image shows, from the left: Katherine Jones, Salk professor, and first authors Yupeng Chen and Lirong Zhang. Like a slumbering dragon, HIV can lay dormant in a person's cells for years, evading medical treatments only to wake up and strike at a later time, quickly replicating itself and destroying the immune system.
powered by zFeeder


The top 5 resources


selected by our team


for biological science
news coverage: