| | | |
| --- | --- | --- |
| | | Today's biological science headlines from the sources selected by our team: |
New, tighter timeline confirms ancient volcanism aligned with dinosaurs' extinction
A definitive geological timeline shows that a series of massive volcanic explosions 66 million years ago played a role in the extinction event that claimed Earth's non-avian dinosaurs, and challenges the dominant theory that a meteorite impact was the sole cause of the extinction.
In one aspect of vision, computers catch up to primate brain
For decades, neuroscientists have been trying to design computer networks that can mimic visual skills such as recognizing objects, which the human brain does very accurately and quickly. Until now, no computer model has been able to match the primate brain at visual object recognition during a brief glance. Now neuroscientists have found that one of the latest generation of 'deep neural networks' matches the primate brain.
Ibuprofen use leads to extended lifespan in several species, study shows
A common over-the-counter drug that tackles pain and fever may also hold keys to a longer, healthier life, according to a Texas A&M AgriLife Research scientist. Regular doses of ibuprofen extended the lifespan of multiple species.
A clear, molecular view of how human color vision evolved
(Emory Health Sciences) Many genetic mutations in visual pigments, spread over millions of years, were required for humans to evolve from a primitive mammal with a dim, shadowy view of the world into a greater ape able to see all the colors in a rainbow. Now, after more than two decades of painstaking research, scientists have finished a detailed and complete picture of the evolution of human color vision.
NOAA establishes 'tipping points' for sea level rise related flooding
(NOAA Headquarters) By 2050, a majority of US coastal areas are likely to be threatened by 30 or more days of flooding each year due to dramatically accelerating impacts from sea level rise, according to a new NOAA study, published today in the American Geophysical Union's online peer-reviewed journal Earth's Future.
Study on world's biggest animal finds more than 1 population in the southeastern Pacific
(Wildlife Conservation Society) Scientists from Wildlife Conservation Society, the Universidad Austral de Chile, the Blue Whale Center, the American Museum of Natural History, NOAA, and other organizations are examining molecular clues to answer a big question: how many types of blue whales exist in the waters of the southeastern Pacific?
New breast cancer classification based on epigenetics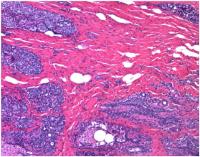 This is an image of a breast tumor identified as Epi-Luminal B of poor prognosis. Breast cancer is the most common in women. One in nine will suffer breast cancer over their lifetime. Progress in prevention and early detection, and the use of chemotherapy after surgery (adjuvant chemotherapy), have achieved significantly increase survival in this disease in the last ten years, but much remains to be done.
New way to turn genes on
Using a gene-editing system originally developed to delete specific genes, MIT researchers have now shown that they can reliably turn on any gene of their choosing in living cells.
Genome sequencing traces MRSA spread in high transmission setting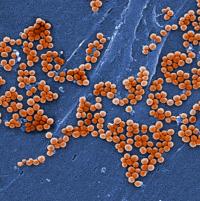 A scanning electron micrograph of methicillin-resistant Staphylococcus aureus (MRSA) magnified 2381x. Methicillin-resistant Staphylococcus aureus (MRSA) is a common cause of hospital-acquired infections, with the largest burden of infections occurring in under-resourced hospitals. While genome sequencing has previously been applied in well-resourced clinical settings to track the spread of MRSA, transmission dynamics in settings with more limited infection control is unknown. In a study published online today in Genome Research, researchers used genome sequencing to understand the spread of MRSA in a resource-limited hospital with high transmission rates.
powered by zFeeder


The top 5 resources


selected by our team


for biological science
news coverage: