| | | |
| --- | --- | --- |
| | | Today's biological science headlines from the sources selected by our team: |
Alaska frogs reach record lows in extreme temperature survival
"Alaska wood frogs spend more time freezing and thawing outside than a steak does in your freezer, and the frog comes back to life in the spring in better shape than the steak," said the lead author on a recent paper demonstrating that freeze tolerance in Alaska wood frogs is more extreme than previously thought.
Vaccine for dust-mite allergies created
A vaccine for dust-mite allergies has been created, researchers report. In lab tests and animal trials, the nano-sized vaccine package was readily absorbed by immune cells and dramatically lowered allergic responses. "What is new about this is we have developed a vaccine against dust-mite allergens that hasn't been used before," says a corresponding author on the paper.
Safeguarding Belize's barrier reef with conservation drones
Seeking to gain a high-tech edge over illegal fishers, the Government of Belize will use "eyes in the sky" to enforce fishing regulations in the biodiverse Glover's Reef Marine Reserve and other reef systems in what is the first use of conservation drones to monitor marine protected areas.
Unbreak my heart
(Max-Planck-Gesellschaft) Researchers of the Max Planck Institute of Molecular Cell Biology and Genetics in Dresden report how they managed to capture detailed three-dimensional images of cardiac dynamics in zebrafish.
UNH NHAES researchers work to save endangered New England cottontail
(University of New Hampshire) Scientists with the New Hampshire Agricultural Experiment Station are working to restore New Hampshire and Maine's only native rabbit after new research based on genetic monitoring has found that in the last decade, cottontail populations in northern New England have become more isolated and seen a 50 percent contraction of their range.
Benefits of combo lipid emulsion no greater than soy-based emulsion for pediatric patients
(American Society for Parenteral and Enteral Nutrition (A.S.P.E.N.)) A systematic review of previously published studies found 'inadequate evidence' that combination lipid emulsions as compared with standard soybean oil lipid emulsion offer any greater benefit in bilirubin levels, triglyceride levels, or infection incidence in pediatric patients receiving intravenous feeding.
Report on viruses looks beyond disease
In contrast to their negative reputation as disease causing agents, some viruses can perform crucial biological and evolutionary functions that help to shape the world we live in today, according to a new report by the American Academy of Microbiology.
Viral therapy could boost limb-saving cancer treatment
Viruses designed to target and kill cancer cells could boost the effectiveness of chemotherapy to the arms and legs and help avoid amputation, a new study reports.
Whole-genome sequencing of bulls in key beef and dairy breeds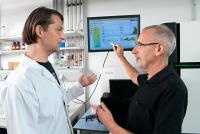 Prof. Ruedi Fries and Dr. Hubert Pausch monitor sequence data of breeding cattle. An international collaboration known as the '1000 Bull Genomes Project' aims to accelerate breeding for desired traits in beef and dairy cattle while also improving animal health and welfare. Results of the project's first phase -- based on sequencing the whole genomes of 234 individual bulls whose direct descendants number in the tens of millions -- are reported in the journal Nature Genetics.
Brand new technology detects probiotic organisms in food
In the food industr, ity is very important to ensure the quality and safety of products consumed by the population to improve their properties and reduce foodborne illness. Therefore, a team of Mexican researchers developed a sensing microbiosensor that detects beneficial bacteria. This micromechanical device, which is known for being inexpensive, fast, selective and reliable, is the first of its kind manufactured in the country, and has been used to evaluate the growth of L. plantarum 299vm, a probiotic microorganism useful in the development of fermented dairy products.
Researchers study bamboo for engineered building material
Bamboo construction has traditionally been rather straightforward: Entire stalks are used to create latticed edifices, or woven in strips to form wall-sized screens. The effect can be stunning, and also practical in parts of the world where bamboo thrives.
Protein evolution follows a modular principle
Proteins impart shape and stability to cells, drive metabolic processes and transmit signals. To perform these manifold tasks, they fold into complex three-dimensional shapes. Scientists at the Max Planck Institute for Developmental Biology in TĂĽbingen have now discovered that proteins can be constructed of similar amino acid chains even when their three-dimensional shapes differ significantly. This suggests that the proteins that exist today arose from common precursors. Presumably, in the course of evolution they were built up from smaller fragments according to a modular principle.
powered by zFeeder


The top 5 resources


selected by our team


for biological science
news coverage: