| | | |
| --- | --- | --- |
| | | Today's biological science headlines from the sources selected by our team: |
Don't forget plankton in climate change models, says study
Globally, phytoplankton absorb as much carbon dioxide as tropical rainforests and so understanding the way they respond to a warming climate is crucial, say scientists.
White matter damage caused by 'skunk-like' cannabis, study shows
Smoking high potency 'skunk-like' cannabis can damage a crucial part of the brain responsible for communication between the two brain hemispheres, according to a new study.
New, presumably tick-borne bacterium discovered in an Austrian fox
Ticks can transmit various diseases to people and animals. Some well-known diseases spread by ticks include tick-borne encephalitis (TBE) and Lyme disease. Researchers are hot on the trail of pathogens carried by ticks. The parasitologists recently discovered a new form of the bacterium Candidatus Neoehrlichia in a red fox from the Austrian state of Vorarlberg. The pathogen might also be transmittable to humans, they warn.
Stem cell study paves the way for patient therapies
Stem cells that have been specifically developed for use as clinical therapies are fit for use in patients, an independent study of their genetic make-up suggests.
Rapid plankton growth in ocean seen as sign of carbon dioxide loading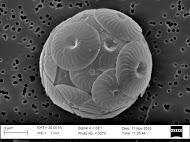 This is a scanning electron microscope image of a coccolithophore, which can measure from 5 to 15 microns across, less than a fifth the width of a human hair. A microscopic marine alga is thriving in the North Atlantic to an extent that defies scientific predictions, suggesting swift environmental change as a result of increased carbon dioxide in the ocean, a study led a by Johns Hopkins University scientist has found.
New gene map reveals cancer's Achilles heel
Scientists have mapped out the genes that keep our cells alive, creating a long-awaited foothold for understanding how our genome works and which genes are crucial in disease like cancer.
Japan to resume 'research' whaling in Antarctic: media
Japan will resume "research" whaling in the Antarctic by the end of March next year, local media reported Saturday, despite a call by global regulators for more evidence that the expeditions have a scientific purpose.
Lettuce quality is improved by modifying its growing conditions
A researcher in the UPV/EHU''s department of Plant Biology and Ecology has confirmed that it is possible to improve the nutraceutical quality of the lettuce by modifying its growing conditions but not at the expense of productivity. The FisioClimaCO2 research group, to which the researcher Usue Pérez-López belongs, has applied various stress conditions to the plants and has verified the changes that take place in their composition as a result.
Study shows evolution does not always mean more diversification
(Phys.org)—A small team of researchers with members from the U.S. and Switzerland has found an example of a fish that did not always benefit in the end from an evolutionary change. In their paper published in the journal Science, the team describes their study of cichlid fish species in Lake Victoria and other places, and the changes that led to their downfall in one ecosystem. Geerat Vermeij with the University of California offers a Perspectives piece on the work done by the group in the same journal issue.
powered by zFeeder


The top 5 resources


selected by our team


for biological science
news coverage: