| | | |
| --- | --- | --- |
| | | Today's biological science headlines from the sources selected by our team: |
Where humans and nature collide: Roadkill hot spots identified in California
A map shows how California's state highway system is strewn with roadkill "hot spots," which are identified in a newly released report. The data could help state highway planners take measures to protect both drivers and wildlife.
Soil nutrients may limit ability of plants to slow climate change
Many scientists assume that the growing level of carbon dioxide in the atmosphere will accelerate plant growth. However, a new study suggests much of this growth will be curtailed by limited soil nutrients.
Oldest fossils controversy resolved
New analysis of world-famous 3.46-billion-year-old rocks is set to finally resolve a long running evolutionary controversy. The new research shows that structures once thought to be Earth's oldest microfossils do not compare with younger fossil candidates but have, instead, the character of peculiarly shaped minerals.
Stanford team makes biotechnology interactive with games and remote-control labs
(Stanford School of Engineering) What if you could interact with cells like fish in an aquarium? Build your own micro-aquarium for cells? Even perform remote-control experiments in robotic biolabs in the cloud? A Stanford team shows how.
Immune system protein regulates sensitivity to bitter taste
(Monell Chemical Senses Center) New research from the Monell Center reveals that tumor necrosis factor, an immune system regulatory protein that promotes inflammation, also helps regulate sensitivity to bitter taste. The finding may provide a mechanism to explain the taste system abnormalities and decreased food intake that can be associated with infections, autoimmune disorders, and chronic inflammatory diseases.
Labels on the front of food packaging can enable healthier choices, new research finds
(University of Surrey) In a new study published today in the British Journal of Nutrition, a team of researchers led by the University of Surrey, has found that front of package nutrition labels can enable consumers to make healthier food choices.
Genetic road map may bring about better cotton crops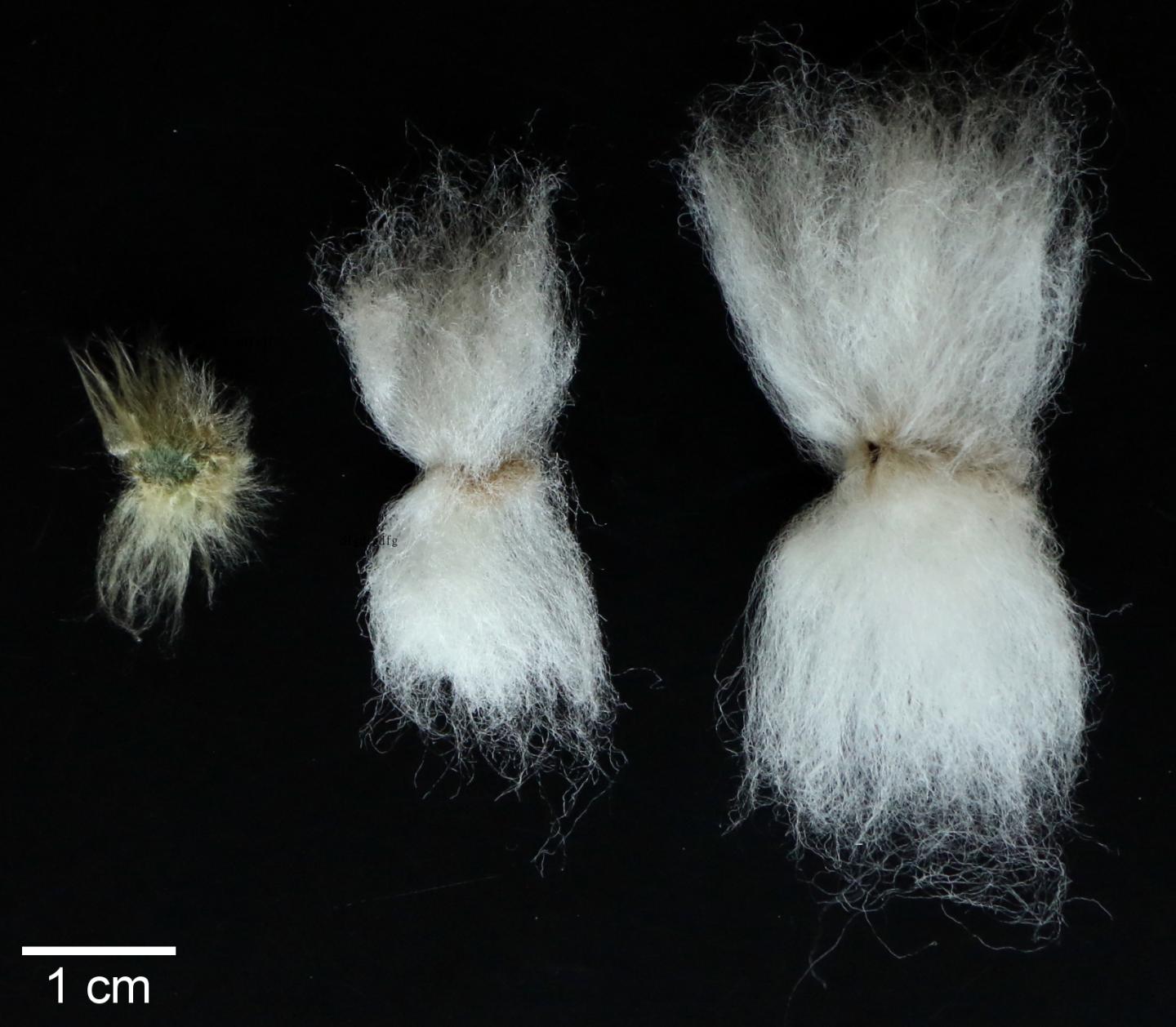 Upland allotetraploid cotton (right) comes from two extant diploid species, closely related to today's G. raimondii (left) and G. arboreum (middle) or G. herbacieum. A University of Texas at Austin scientist, working with an international research team, has developed the most precise sequence map yet of U.S. cotton and will soon create an even more detailed map for navigating the complex cotton genome. The finding may help lead to an inexpensive version of American cotton that rivals the quality of luxurious Egyptian cotton and helps develop crops that use less water and fewer pesticides for a cotton that is easier on the skin and easier on the land.
Tumor genome sequencing shows the most frequently altered gene in bladder cancer: Telomerase reverse transcriptase
In results presented today at the American Association for Cancer Research (AACR) Annual Meeting 2015, a collaborative study by the University of Colorado Cancer Center and the National Cancer Institute (NCI) reports that the TERT gene promoter was altered in 69 percent of 54 cases of bladder cancer due to variants that occur after birth (called "somatic") and in 56 percent of bladder cancers due to inherited variants (called "germline"). The study shows these TERT alterations frequently co-occur with alterations in recently identified bladder cancer genes such as the stromal antigen 2 (STAG2), and the lysine-specific demethylase 6A (KDM6A).
Vampire squid discovery shows how little we know of the deep sea
Among soft-bodied cephalopods, vampire squid live life at a slower pace. At ocean depths from 500 to 3,000 meters, they don't swim so much as float, and they get by with little oxygen while consuming a low-calorie diet of zooplankton and detritus. Now, researchers reporting in the Cell Press journal Current Biology on April 20 have found that vampire squid differ from all other living coleoid cephalopods in their reproductive strategy as well.
powered by zFeeder


The top 5 resources


selected by our team


for biological science
news coverage: